The million dollar question that no one outside of Chicago has asked but is driving Bulls twitter crazy…..what should the Bulls do with this roster? The NBA trade deadline is 3 weeks away and a cloud of uncertainty hangs over this Bulls team and its future plans. After Billy Donovan's group limps into the All Star break at 15-18, it's been widely viewed as a successful first half. This is the best Bulls record through 33 games in over 4 years (yikes!), and there has simply been a beautifully boring level of competitiveness which has been refreshing to see. Gone are the punch clocks and spirit talk from Jim Boylen, arguably the worst head coach in the history of sports. Now, the biggest drama surrounding this team has been questioning if Donovan should have held onto a challenge he used in the 2nd quarter in a close loss to the Spurs. The Bulls have been respectable and then some this year and have played some inspiring ball despite their overall talent level being toward the bottom half of the league. And although there have been some fun stories (Zach LaVine deservingly becoming an All-Star, Thad Young's resurgence, and Donovan actually being a real coach), the Bulls are still in an awkward place, unsure of whether to sell off assets and fade for Cade, try and buy some young future pieces or hunker down and try to make the playoffs/play-in. Let's take a look at each of these scenarios and what I think AK will eventually do in his first year as Bulls President.
Scenario 1: The Bulls SELL, SELL, SELL
First, I think it's important to understand something. The Bulls are competitive not because of talent or growth from their young guys but because of the steady play of their veterans/bench unit. Go look up all the advanced numbers and net ratings, and what you'll find is that the Bulls bench far outperforms the starters in +/- (and all other reserve units sans the Spurs) and just about every category possible. Guys like Thad Young, Garret Temple, Tomas Satoransky, Otto Porter Jr (when he's not eating his weight in McRib's) have formed an incredible bench unit that has ZERO long term impact on the Bulls future. It's a nice fun story but also a reminder of how bare the Bulls overall talent pool is. We rely sooooo heavily on these vets to keep the Bulls in the game while lineups with Patrick Williams, Coby White, and Wendell get smoked night in and night out. Gar Forman would be spinning in his grave (have to assume he's dead by now, just like Tina Turner. Who has actually seen either of them in the past 6 months? Any proof of life?)
So, the Bulls are rich in veteran players who serve ZERO purpose in the team's long term plans but could absolutely help a contender. Are there concerns about the Bulls culture going backwards if you lose these vets? Sure, but isn't that why you paid a coach like Donovan? To make sure Wendell Carter Jr doesn't accidently mix whites and colors in his laundry just because Thad Young got traded for a first. Let's stop the nonsense here guys. Look at this stat below which includes two Bulls and one player being horribly nicknamed as of late. In fact, a recent poll of NBA GM's stated that Thad Young was the second biggest trade chip out there to turn the tides of a contender for the NBA playoffs. Damn….so the Bulls should definitely trade him, right? RIGHT?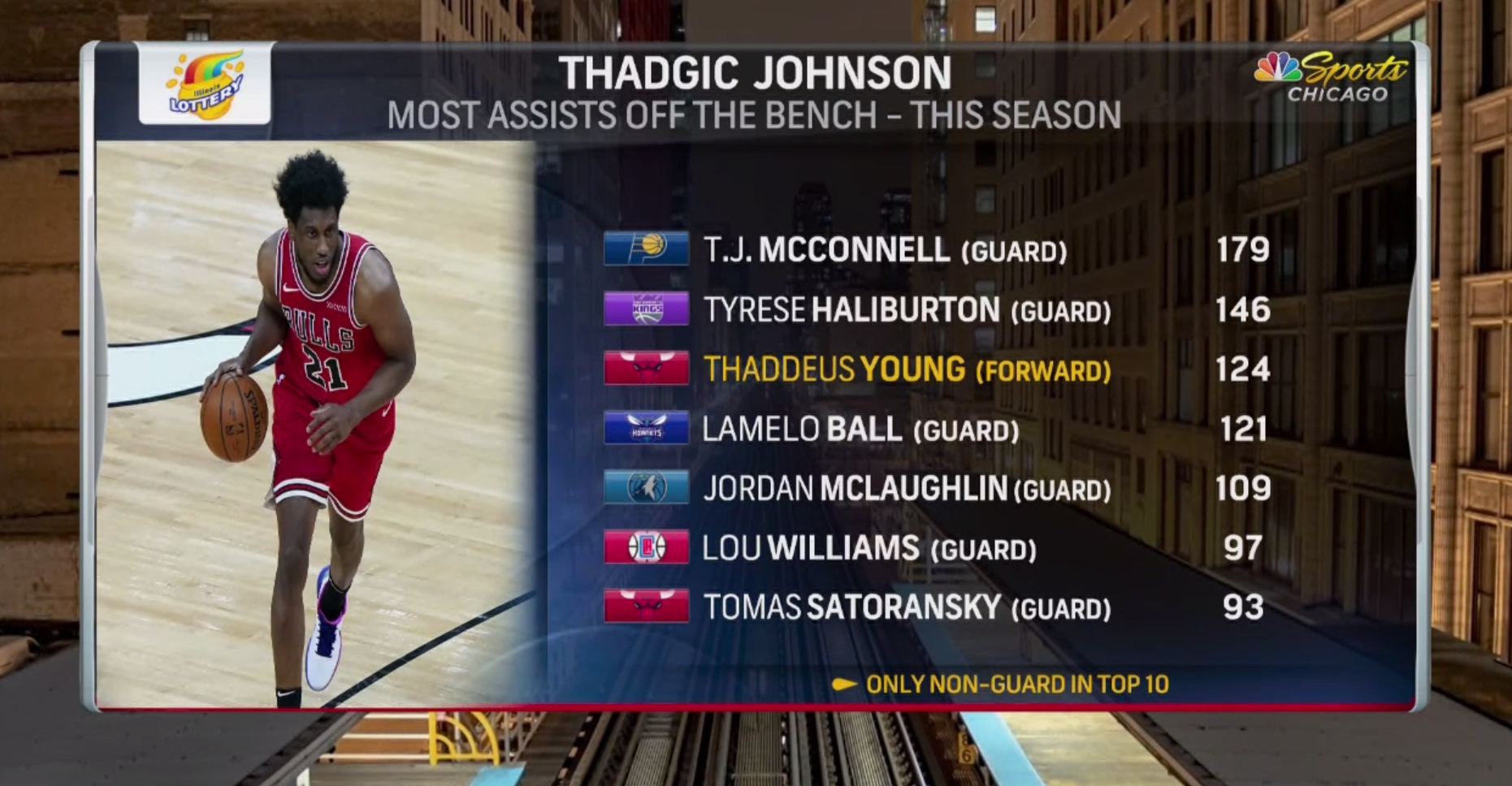 The Tragic Thadgic Conundrum
Everyone keeps talking about Thad and understandably so. He's having an incredibly efficient season for the Bulls and serving as a uniquely skilled offensive fulcrum for the second unit (and closing unit as Thad now plays over Wendell at the 5). Thad's playmaking at the post and ability to run a 2 man game with Zach LaVine has been a revelation and also a hilarious reminder of how miscast he was with Jim Boylen (think Vince Vaughn on True Detective or Emma Stone playing an Asian on Aloha) He's decisive, shooting over 60%! from the field and making incredible passes night in and night out. So why would you trade him? Well, he's 33, signed for a partial guarantee next year and the Bulls aren't close to contending. His skill set would be a welcome addition on numerous teams (Nets, Blazers, Nuggets, Celtics, Lakers, etc etc etc). The problem is that no contending teams have lottery picks at the ready (The Warriors own the TWolves pick, top 3 protected and the Knicks own the Mavs). So if a contender trades for Thad, all you can really expect back in terms of draft capital is a pick in the mid to high 20's. Is that enough? Is Thad worth keeping around one more year to keep Zach happy? I think the Bulls have to expand their horizons and demand not only a first but also consider a young player in any deal for Thad. My favorite trade scenarios are below:
THAD TRADES (all approved via ESPN Trade Machine)
Thad Young and Tomas Satoransky for Gary Harris, RJ Hampton, top 20 protected 1st round pick. Buy low on someone like Gary Harris (still young, was once a good 3 point shooter) and ask for RJ Hampton as well as a first. Nuggets can clear some long term salary and the Bulls can throw in Sato with Thad for Gary Harris, RJ Hampton and 2021 first round pick. That to me would be well worth it. Maybe the Nuggets dont see enough value there. But Thad next to Jokic in the playoffs would be fun. Bottom line is this: The Bulls will not get a lottery pick for Thad
Thad Young, Garrett Temple, and Daniel Gafford for Joe Harris (BKN). Clear some long term salary for the Nets and give them some muuuch needed offense and front court depth and playmaking. The Nets could also deal for JJ Reddick in a separate deal to give them shooting at a shorter and cheaper price.
Thad Young and Chandler Hutchinson for Normal Powell and Malachi Flynn (Raptors)
Thad Young, Chandler Hutchinson for Devonte Grahm and Cody Zeller (Buzz City)
Thad Young for Kelly Olynk and Precious Achiuwa (Heat)
The bottom line is the Bulls should target interesting young players or guys who are having down years and in need a change of scenery just as much as they should care about shitty first round picks. For every Jimmy Butler, there are 45 Tony Snells. Thad Young's value has never been higher, so take advantage of that if you decide to sell. The only "real" (don't @ me about culture or LaVine loving him) reason you don't trade Thad is if you're planning a blockbuster trade (someone like Bradley Beal) and planning to seriously contend in the next 1-2 years. Also, if you fucking love the guy (we all do) then just resign him once he's a FA again anyway.
Who else could the Bulls trade?
I'm not even going to entertain Zach LaVine trades because I think there is a 0% chance AK sells off the only legit talent the team has (unless he gets 2-3 first round picks, 2-3 pick swaps and young players which he wont). I think the Bulls could look to unload Otto Porter Carls Jr. for a couple second round picks (the Heat or Celtics could make sense for sure but matching salary is a bitch here). And some teams might have interest in Sato and Temple, but they won't net anything real in return (shitty second round picks at best, no young players). So if the Bulls were to trade anyone else, it would need to be from their young core.
As a RFA, does Lauri Markkanen actually have much value when he can potentially walk (plus he's once again been hurt for weeks now). My favorite trade scenario would be to trade Lauri straight up for Lonzo Ball. Or maybe Lauri for a disgruntled but talented John Collins? (although Collins believes he is a max player which makes me question his grasp on reality) Lauri is what he is at this point. A one dimensional (shout out straight lines) scorer who isn't even that great at scoring. Lonzo is exactly what the Bulls need and it could be a worthwhile gamble for each team to trade their respective RFA's. Unfortunately for the Bulls, Lonzo is balling out in February playing the best basketball in his life while Lauri is having setback after setback in another injury riddled season. I'd happily overpay Lonzo 4 for 80 and would never pay Lauri more than 4/60. That's just me.
Beyond L'Markkanen, I don't think the Bulls get a good enough return on young players such as Wendell Carter Jr and Coby White to entertain anything. Unless part of a large blockbuster (unlikely), the only Bulls players to realistically bring back something in a trade are Thad Young, Lauri Markkanen, Otto Porter Jr (with Sato and Temple bringing up the rear). Once again, I think Zach is off the table at this point. And fuck Otto Portly Neopolitan btw. He's great at cashing checks and knowing the secret late night menu at Taco Bell, but his Bulls experience has me crave casing his exit. BYE! A genuinely useful 5 tool player who simply doesn't give a fuck.
What happens if the Bulls start dealing?
Odds are the Bulls will fall apart if they lose 2 or three key vets who have played such a crucial role all year. If Thad leaves especially, the team will look drastically worse and should fall out of the play in game altogether. The 2021 draft is very very top heavy according to draft experts and giving yourself a chance at a top 5 pick could bring a franchise player to Chicago to pair with LaVine, Patrick Williams and whoever else. Cade Cunningham is the clear #1 imo who seems like Ben Simmons with a smoother offensive game. Sign me up! Get the best odds possible while still playing your young core together. Give Wendell, Coby, Lauri, Patrick, Chandler (I guess) as much time as possible. Also, give someone like Devon Dotson (just recently recalled from the G-league bubble) a fair shot at some minutes. Anything over American Psycho Ryan Arch.
If the Bulls fall out of the playoff race due to trades, what other negative consequences could arise? For starters, your best player might be pissed. LaVine is scheduled to be a free agent after next season and trading away the only good players he's had could send the wrong message to a guy you potentially want to keep around. In addition, Chicago as a FA destination could take a hit if the team continues with ANOTHER losing season and no clear vision as to what type of team they are building. I think these issues can be dealt with by competent leadership and shouldn't scare the Bulls away from acquiring future assets. Basically, don't be a bitch Bulls. Don't listen to Bulls twitter. Don't pull another 3 Alpha's half step toward relevancy. Big picture only. This team is fun again and watchable. This team isn't close. Both things can be true. Act accordingly.
What if the Bulls stay project pat and make no moves at the deadline? Find out tomorrow!