It's been nearly 9 months since the Bulls played real basketball and god damn did I hate miss it. Your most obscure Bulls Blog Boi is back and I wrote down some thoughts from the first pre-season game. More than anything though, I'm just excited that Boylen is gone Gar Forman is gone Bulls basketball is back! I will be unleashing a few articles in the coming weeks to properly preview the season ahead while tastefully pissing on the graves of Jimbo and Gar. But first, basketball. So let's take a deeper dive into the first pre-season game of the year in which the Bulls were TERRIBLE! in a pointless loss against a Houston Rockets club without James Harden, Christian Wood, and PJ Tucker. Bulls lose 125-104 but I like to think we all lost tonight.
First Look at Billy Ball: What did we learn? Anything?
Um I'm not sure quite sure what that was exactly. It's been 270 days, it's the preseason, and its pointless to overreact but that was uninspiring. It looked like they were running a high school spread motion offense but it's quite evident the Bulls desperately lack a natural pg/playmaker to set others up. Every shot seemed like a chore. Down 14-2 within minutes, the Bulls offense looked sluggish and unimaginative throughout. The only plus in the first quarter was LaVine's effortless scoring (which they obviously will need 25+ a night). Coby and WCJ looked quite overmatched against John Wall and DeMarcus Cousins (good for them by the way, they looked legit)
The only thing that looked worse than the offense in the first half was the defense. The Rockets had plenty of wide open 3's (and hit 7 in the first quarter) and got to every loose ball and rebound. On numerous occasions, Bulls players got beat off the dribble with no help at the rim. There were zero rotations made. It was really ugly. The Rockets didn't have to work for anything. The defense reminded me of the montage during Teen Wolf. It was just a will-less effort from the Bulls as a whole. One on one defense was pitiful and the team defense was discouraging at best. The Rockets shot 23/48 from 3 and had just 4 turnovers compared to the Bulls 20!
It's just one game, but the Bulls don't seem very good at offense, defense, passing, moving, shooting, running, among other areas. As much as I like the upside of Coby White, the lack of a true point guard is going to really hurt this team.
This play properly summed up the first half
Bullish Player Observations:
Coby White – Unfortunately looked severely overmatched vs John Wall. Struggled to simply handle the ball, get to basket (easily blocked at his first attempt for a layup), guard anyone, or make a pass? Not ideal start. There will certainly be growing pains as a 2nd year player, and he finally got to the basket for a few easy makes in the 2nd quarter. It will be an up and down season all year I imagine.
Zach LaVine – Shooting stroke looks effortless and smooth as ever.
Otto Porter – Looked slow and out of shape but was aggressive with his jumper which looked good. Once again, the Bulls clearly need more offense so Otto's health is key.
Lauri Markkanen – After overthrowing a pass by 500 feet, he had a few nice moves in the first half. And whats always more encouraging is when he takes it to the hoop. A beautiful drag step jumper from Lauri below.
Wendell Carter Jr. – Looked incredibly hesitant on basically every basketball move he made including a brutal turnover in the backcourt. The Carter got outplayed badly by Boogie Cousins. Started the game with 3 turnovers, 0/5 from the field (ALL 5 misses were from 3). He also got baited into some early fouls too. He did hit the glass though and finally went up after a rebound for an easy dunk before the forgettable half ended. That was legit a rough start to the Wendell Carter breakout year!
Tomas Satoransky – Made a few nice unselfish passes to get open looks for Otto Porter in the first quarter but otherwise was pretty invisible.
Patrick Williams – He seemed to not know how to check into the game (do I call ahead?), but after that he settled down and did a LOT. Stepped into a jumper early on though for his shot attempt and points in the NBA (below)
He then immediately got taken off the dribble by Eric Gordon and then travelled the next time down. Pat is a really interesting pick but we all need to be patient with the 19 year old. His first 3 PTA looked a little wonky too but he at least seems confident and not overwhelmed. In the second half, he made a few nice plays on offense mixed with some rookie like turnovers. There are definite flashes though and that should be exciting for Bulls fans. In the 3rd quarter, he was incredibly active and looked decisive and JB Smoov in his offensive game. He was easily the highlight of the night. Amin called his play steady which I thought was a good description.
Chandler Hutchinson – Shocked to find out he's still not an NBA rotation player. He reminds me of Tony Snell, but somehow quieter? Absolutely nothing of significance. He's a beige colored fly on the wall.
Daniel Gafford – Active, bouncy, and disastrous when trying to dribble the ball. I never want to see him facing the basket with the ball at the elbow. Stacy King actually correctely noted that Gafford's best plan might be to develop a shitty hook shot. Just something quick. The longer he has the ball, the more inevitable the turnover becomes. I feel like him and Mason Plumlee are kindred spirits.
Thaddeus Young – Creamy hamstrings kept him out
Devon Dotson – The undrafted rookie is a Chicago born kid who grew up idolizing D Rose. I'm sure that was a nice moment for him to check in
Luke Kornet – He looks like the guy from District 9 after he gets infected
Baby Cris Felicio – Makes $8million to forget where he put his keys. The final year of his disastrous 4/32 contract. His agent deserves a bronze statue.
Ryan Arcidiacano – His hair, my god. His hair. He's clearly going through something and it's important we be there for him. He kinda looks like Tom Cruise in Magnolia?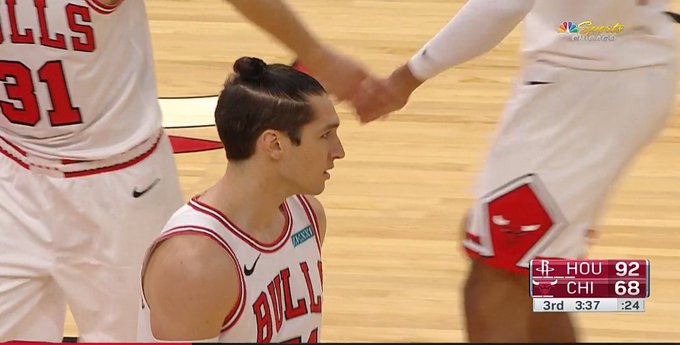 Who do you want to punch more?
Denzel Valentine – Earning $4.6million dollars to continue to be hurt and smile like a jackass.
Adam Way Down in Makokamo – Uber got lost
Noah Vonleh – Remember him? I'd Memento myself if I could.
Garrett Temple – MaMaMaMy Carona! (Wear a mask people)
Final Stray Thoughts -The Bulls still have the best intro in sports. I wish they'd show the CGI bus actually bursting into flames like old times though
-NBA coaches no longer have to wear suits! That seems long overdue. It always makes me think of poor Sean Miller
-Adam Amin is SOOOO much better than Neil Funk. Thank God. The difference is shocking. Very excited to have Amin doing games this year.
-Very deflating to see John Wall walk in for a layup over Coby on the first play.
-John Wall and Demarcus Cousins looked pretty good (or Coby and WCJ looked bad). Are the Rockets going to be sneaky good if Harden shows up?
-Watching games in the empty United Center reminded me how incredible the setup was during the NBA bubble. The visual environment created by the NBA was so impressive. Large empty arenas suck.
-Chandler Hutchinson isn't an NBA player. I've seen enough.
-There is a serious lack of talent on this team. That's a bold strategy cotton, let's see if it pays off!
-We may be in for a long year BUT at least Gar Forman is now in NOLA keeping the beignet powder dry and Jim Boylen is somewhere yelling at a Walmart greeter for asking him to wear a mask if he wants to shop.
-At least now with lottery reform, we can look forward to a great upcoming draft. #fadeforcade #inthemarket4Boston #stayclearforZhaire #eatbugs4Suggs
-This is still better than watching the Chicago Bears.
Stay tuned to bullsorbust for more Bulls coverage this year! Looking forward to suffering through another losing season with Bulls fans everywhere!