The Chicago Bulls played their 2nd preseason game last night vs Zion and the NOLA Pelicans and the results were shockingly positive.  The final score (L, 127-125) wasn't indicative of how the Bulls played as they ended up blowing a 23 point 4th quarter lead with all the starters resting.  But the first 3 quarters provided perhaps the most enjoyable Bulls viewing I've seen in year(s).  The Bulls dominated offensively throughout the night and it was much more than just good shooting that had me so excited.  Below are 20 observations from the game (sponsored by Warby Parker)
1. The Bulls went with a different starting lineup this game of:  Tomas, LaVine, Otto, Lauri, and Big Cris.  Tomas got the start over Dunn and Cris started in place of the injured Wendell Carter Jr (should be back next game).  Zach LaVine was the shortest starter at 6'5.  With Tomas as a starting PG at 6'7, this lineup is BIG.  
2. The first 4-5 minutes of the game were unwatchable as the Bulls had a stretch of 4 turnovers on 5 possessions and couldn't hang on to the basketball.  Tomas and Lauri in particular looked sloppy and forceful with their passing.  It was hard to watch.  The Bulls had 9 turnovers in the first Quarter with ZERO free throw attempts.  
3. After the sluggish start, the Bulls offense took off and was a sight to behold.  I'm assuming this new Bulls offense is heavily influenced by new offensive coach Chris Fleming but Jim Boylen wasn't lying when he said the Bulls would be implementing a "Point 5" system (basically you have half a second to either shoot, drive, pass…just don't hold the ball).  But early on the Bulls had numerous possessions where quick passes led to 4-5 guys touching the ball and swinging it side to side to find a wide open 3 (Lauri and Otto had 2 wide open misses).  It was honestly the most beautiful offense I've seen this team run in years.  Once you replace Felicio with another high IQ player in Wendell Carter Jr (who I believe has the skills and instinct to be a + passer for his position) and this offense could be top 15 for sure.  The Bulls finished with 71 first half points! on 24 assists.  They also took 20 3's and hit 11.  Stephen Noh from The Athletic (excellent follow) recently pointed this stat out.  
Big caveat: I don't know how translatable preseason style of play stats are, esp. off one game, but some good shifts for the Bulls. They cut out midrange shots, played faster, shot way more 3's and free throws. Shots weren't falling but the offense at least played more modern.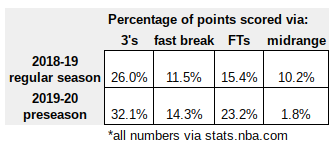 4. Despite a rough start, it's pretty obvious that the Bulls starting point guard HAS to be Tomas Satoransky.  He finished with 11 points (5-6 fg), 8 assists, 5 rebounds and a number of deflections on defense.  Once he settled in, he was clearly the best option at point guard for this team.  He severely outplayed Kris Dunn (more on him in a minute) and the offense was so much more crisp (by Yosi) with him at the helm.  I was a big fan of this signing and think he was exactly what the Bulls needed.  
5. Zach LaVine looked smooth, efficient, and dare I say serviceable on defense.  I've been a huge critic of Zach LaVine since he's arrived in Chicago but his talent could never be denied.  But I was so impressed with how he attacked this game offensively.  He scored 28 points in 26 minutes on 10-16 shooting but just seemed to do a marvelous job at picking his spots and not forcing up tough shots.  He got to the rim, made extra passes often for MORE open 3's and legit exhibited serious effort on defense.  He will NEVER become a great defensive player but this was sadly some of the best defense I've ever seen him play.  He looked engaged and active (including a great read on a cross court pass he intercepted (shout out Trubisky).  And his shot is beautiful.  
6. Zion Williamson is the REAL DEAL.  The #1 pick dropped 29 points in 27 minutes on 12 of 13 shooting and routinely bullied Lauri to get into the lane for easy finishes at the rim.  I'm skeptical of his shot, but god damn is he a freight train who can score at will.  He's going to be so much fun to watch and I love the system and team he walked into.  
7.  Cool Hand Luke Kornet did some things.  I was shocked as anyone when Greg from Succession came in and was incredibly active inside the 3 point line on offense.  He ran the pick and roll, and actually rolled on a few possessions (finishing on one, blocked on another) and showed a quick and smooth 3 point release.  More than anything, he just looked much more like an NBA player and athlete than I expected.  He was light years ahead of Felicio in every category (including looking like a large child).  When he was on the court with Tomas/Coby, Lavine, Otto,  and Lauri the Bulls had a 3 point shooting lineup to the likes of nothing we've ever seen.  Kornet definitely got bullied on defense but he legit might play some meaningful minutes ahead of Gafford and Felicio.  Maybe the biggest surprise of the night.
8. Coby White continued to show flashes of his potential.  I will always expect mistakes and a mixed bag from a 19 year old rookie point guard but he's quickly cementing himself as the 2nd point guard on the depth chart.  His first half was superior to his second, but he finished with 13 points (6-15 fg) and 3 assists.  
9.  Kris Dunn did not help his cause.  He looked lost on offense getting pick pocketed on one possession and blocked at the rim easily on a drive on another.  He also passed up a WIDE OPEN 3 on another and depsite diving on the ground a few times, I found very little to suggest he deserves a meaningful role on this team moving forward.  The bigger issue is that its quite obvious now that he has ZERO trade value.  Maybe the Bulls can get a 2nd for him but I just dont see this ending well.  
10.  Cristiano Felicio and Adam Mokoka are NOT NBA players.  I think we already learned this from Felicio the past 2 years but it has been painfully obvious through 2 games. He does nothing well beyond cash a paycheck ($8 million).  Adam Mokoka is a 0 way player on a 2 way contract (D-league optional).  I have no clue what he does average.  
11.  Otto Porter Jr needs to be a part of the Bulls long term plans.  I will admit that he's my favorite player next to Wendell Carter Jr. and after a lackluster game 1, he did a bit of everything last night.  I love his versatility and all around offensive game.  Having him for a full year (15 last year) is going to do wonders for this team.  He lead the team with a +/- of +22
12.  The defense looks "better."  Still a long ways to go, but I think the added length on this team plus the additions of Tomas, Young, and full years from Otto and WCJ (once he plays) will make a huge difference.  I thought the weak side help was far superior than the days of Jabari and there were a lot of deflections throughout the night.   They still got bullied down low and struggled in transition, but a positive step forward. 
13.  I cannot figure out Lauri Markkanen for the life of me.  I'm a big fan but I wonder on where his ceiling is.  His shot looked smooth and fluid but he got bullied on defense and just struggles to make plays when he's 1 on 1.  
14.  The Bulls host the All Star game this year and god damn do we all deserve a proper dunk contest.  Imagine if LaVine, Zion, Aaron Gordon, and Greek Freak/Donovan all participated????  Warm it up with a Denzel Valentine layup clinic beforehand.  
15.  Denzel Valentine is still hard to watch at times but he is going to be relied on to provide wing depth off the bench.  There was recent good news on Chandler Hutchinson health, but there has been no good news lately on his ability to play NBA level basketball which means that the Bulls will rely on Denzel a good deal.  He had some nifty passes and hit a few shots but he is streaky and not intelligent.  His defense is HORRID and he can be a turnover machine ("Lead" the Bulls with a +/- of -17).  The best case scenario is that he returns to a near 40% 3 point shooter and excels in a specialist role off the bench.  He's just so fucking lame though…
16.  Thaddeus Young is exactly as advertised.  He's a smart player who does a lot of little things that don't show up in the box score.  He is already a better passer than I anticipated and his jump shot is uglier than I realized (he was hesitant in Indy to shoot 3's beyond corner attempts) but he had a driving dunk and some great passes in this game.  I love moving him around in lineups and could see him as a closer a lot this year. 
17.  Jim Boylen is a human being.  He was quite animated throughout and often looks like a 6th man the way he gets into a defensive stance on the court.  I hate him and Chicago media needs to stop praising him….hes not a good coach.  
18.  I miss Wendell Carter Jr.  I'm hopeful he comes back October 11 vs the Pacers.  His progress could determine if the Bulls fight for the 8 seed or not.  
19.  Daniel Gafford's minutes are going to greatly depend on matchup and situation.  I love his energy (and Boylen undoubtedly loves his soul) but his offensive game is just so limited that we may see games where he plays 25-30 minutes and others where he's a DNP.  But both him and Kornet should be playing before Felicio.  
20.    The Bulls had 49 made baskets on 38 assists.  They also hit 14 of 37 three point attempts.  This is a step in the right direction.